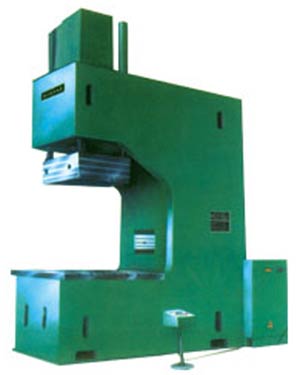 Add to Favorites
Share
Y41 Mono Column Compensate Hydraulic Press Machine
Payment

Origin

China Mainland

Minimum Order

10

Packing

Pieces
Product Detail
For c-arm-type structure of the fuselage, using steel CO2 welding, vibrations through the tempering treatment after welding to ensure not deforming the fuselage. Located inside the fuselage of the hydraulic system, in appearance, easy to operate. Mainly suitable for metal products, such as stretch, molding and pressing processes, suitable for processing of non-metal materials, powder metallurgy product suppression and correction of shaft parts, parts of the press-fit and sizing, edge cutting technology of metal products.

This series of presses equipped with independent hydraulic and electrical control systems, centralized control buttons used, forming process of implementation regulation and the constant pressure, pressure display and stroke, stress control and other functions. And the series with a four-cylinder guide pin Guide, so as to improve the accuracy of product and guide pin, piston rod quenching hard chrome plated handle, never rust brushed, oil pump inlet port with unique filtration devices, ensure that the service life of the pump and valves. Circuit connection using imported high-pressure hoses, greatly reduce the noise emitted by machines. In addition, according to user requirements, configuration imported PLC, grating protection and human-machine interface (touch screen) and other advanced components. For the customer's special requirements, we can tailor production, maximize customer satisfaction, production requirements.

1. has a rigid structure and orientation performance, speed and so on.

2. convenient manual adjustment mechanism can be adjusted anywhere in the travel of table heads or to suppress, and can also be adjusted fast forward in the itinerary and drive the length of the work;

3. welded sturdy open structure allows the fuselage to maintain sufficient rigidity at the same time have the most convenient spaces.

Safe operation of c-frame hydraulic press

1, hydraulic machine operators must be trained, equipment performance and operational techniques, to be independent.

2, before work, you should first clean up the mold all kinds of debris, clean any dirt on the hydraulic rod.

3, hydraulic machine installing dies must be carried out in the power outage, prohibition of the collisions start button, lever and pedal on the pedal switch.

4, install upper and lower molds, adjust the die clearance, do not allow unilateral deviation from Center to confirm fixed die and then try.

5, hydraulic presses until first boot device is idling for 5 minutes, and check that the oil level is sufficient, whether the pump sounds normal, pipes, fittings, pistons and hydraulic unit if there is leakage.

Pressure test of 6 and switch on the device, check whether the pressure working pressure, movement is normal and reliable equipment, there is no leakage.

7, adjust work pressure, but should not exceed the equipment rated pressure 90%, pressure test is a part, check the reproduction.

8, profiles for different hydraulic machines and workpieces, when pressure mounted, correction, you should feel free to adjust the working pressure of the compressor and pressure time and frequency, packing, and that does not damage the mold and the workpiece.

9, body plate when sliding up and down and never put hands and head into the plate, die working parts.

10, is strictly prohibited in the press at the same time, to knock the work, drawing, welding and cutting, bending, torsion and other operations.

Around 11, hydraulic machine presses may not smoke, welding, welding, shall not store inflammable and explosive materials. Fire prevention measures.

12, hydraulic machine work is completed, you should cut off the power, press lever wipe clean, plus a good Lube, tooling, workpiece clean, neatly.

Scope of application: Mono column compensate hydraulic press machine of this series, is a multi-functional medium and small hydraulic press, suitable for shafts, profiles, calibration and press-fit of bushings parts. But also to complete the sheet metal bending, embossing, simple form, parts drawing process, the powder can also be used to suppress the requirements less stringent, plastic products.

This serial products is suitable for internal combustion engine, textile machinery, machine tools, shaft, bearing, washing machines, electric motors, air conditioner motors, electrical appliances, military industry enterprises, foreign-funded enterprises assembly line industries.



3
YRS
HIL heavy technology limited
China
Favorites